L-type automatic shrink packing machine
Product Detail
Feedback now
L-type automatic shrink packing machine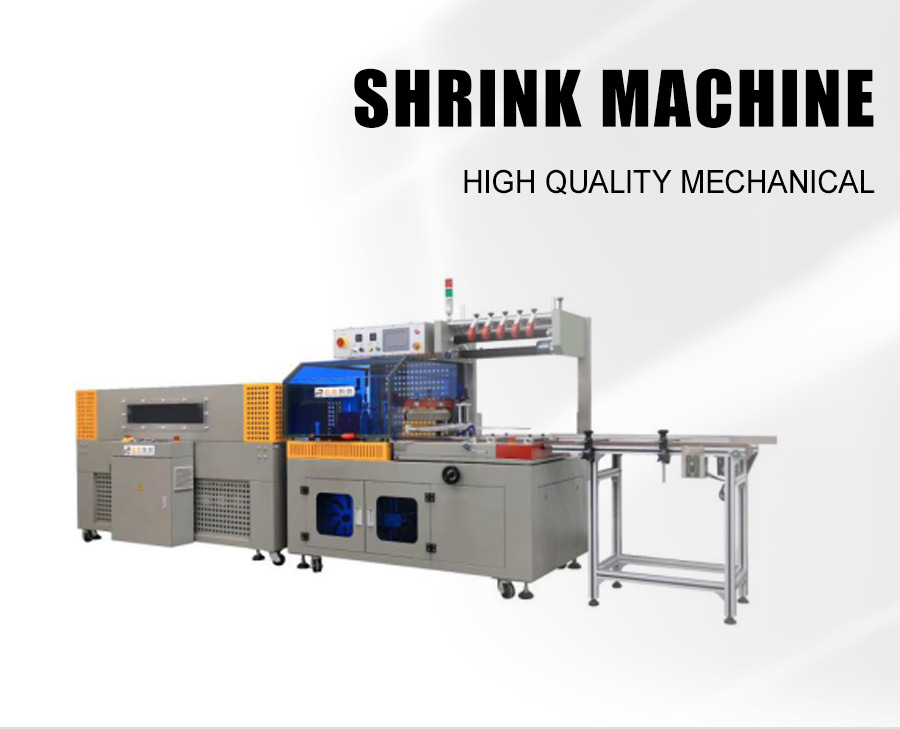 L automatic shrink packing machine is highly automatic equipment, the application of shrink film packaging machine can greatly reduce the material and labor costs of medium box packaging, which has important economic significance.
Advantages of the automatic shrink packing machine
1. L heat shrink film packaging machine using advanced film thermostatic technology, sealing clear, firm. It has the function of fully automating the process of conveying feed, managing bottle, wrapping film, sealing, and shaping, originally imported guide rod cylinder to ensure accurate action. Durable. Induction switch control film feeding system, reliable control film feeding length, reduce loss. All conveying is variable frequency speed regulation, smooth and smooth transportation. Unique heat shrink channel, two sets of centrifugal hot air circulation system, heat balance uniform, shrink fastening, beautiful.
2. The two ends of the packing method are open, it is wrapped in a sleeve with a cylinder film or flat film and then heat shrink operation, after the packaging is completed, there is a contraction port at both ends of the packaging. Four-sided seal type, the product around with flat film or tube-like film wrapped up, the joint is a lapped seal. for product packaging that requires sealing. One end open, pallet shrink packaging is a typical example, the film is first made into a square bottom large bag, and then the large bag from top to bottom on the stacked commodity tray, and then heat shrink. Place the product tray on the conveyor belt and cover with shrink film bags; heat shrink from the conveyor belt channel, through the heat shrink channel after the completion of the shrink packaging.
model

Voltage

Pneumatic power

Speed (minutes)

Packing size (mm)

Dimensions (mm)

Maximum cutting film width

L-type shrinking machine

220V/60HZ

6KG/c ㎡

18M/Min

(L)500

(W)450

(H)120

(L)1600

(W)930

(H)1420

380mm

Note:




1. Sealing temperature: Depends on the material (the temperature of the sealing knife may be slightly different due to the surrounding environment);




2. Sealing time: 0.5 seconds usually (but needs to be adjusted according to the difference of the packaging);




3. The raw materials used in the equipment: POF;







Q: Are you a factory?
A: We are a factory located in Guangzhou City, Guangdong Province, China. Welcome to come to visit us at any time.
Q: How to start a project?
A: To start your project, please send us your products sample, we will send you a sample with film overwrapping with overwrapping speed by machine. If the sample is ok, speed is accepted Then, you will get the quotation from us within 24 hours.
Q: What company do you work with?
A: We do have lots of customers from all over the world. as you know, The app and vinda also Tiktok also our customer.
Q: We're not familiar with international transport, will you handle all the logistic thing?
A: Definitely. Many years of experience and long-term cooperated forwarder will fully support us on it. You can only inform us of the delivery date, and then you will receive the goods at the office/home. Other concerns leave for us.
If you have some problems with automatic shrink packing machine, or want to know more details about Full-auto Film overwrapping machine, Filling Machine, etc. Welcome to contact us!
Looking forward to your inquiry.
Tags: